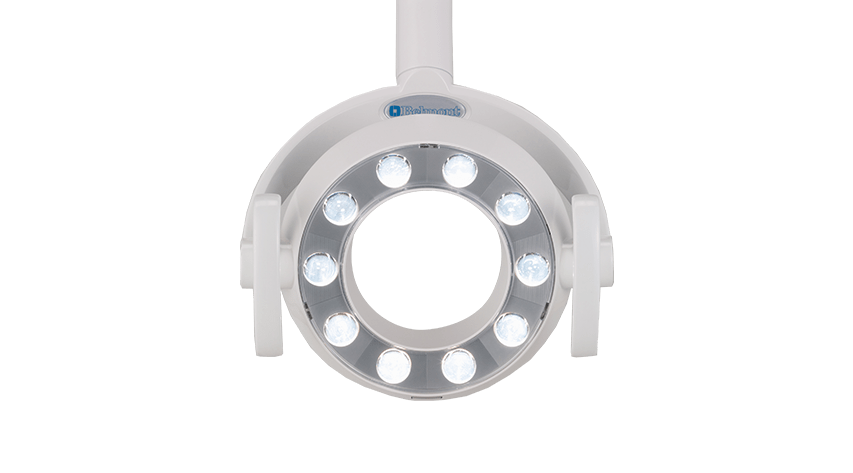 Good Design Awarded light with sharp and clear light pattern
Ten LED's mixed and matched to generate the correct color rendering.
LEDs used for Dental Light 900 use a high rendering LED.
It contains blue, red and green lights and shows all colors correctly.
The "color rendering property" is over 90.
Color rendering property is the sum of how MANY DIFFERENT COLORS are shown correctly under the light.
Brightness Distribution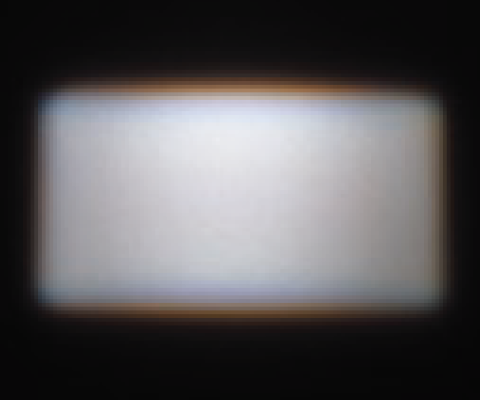 900 dental light is engineered to minimize eye fatigue. The rectangular light pattern is brightest inside of the oral cavity and gradually becomes less bright across the patient's cheek area.
Fluid Positioning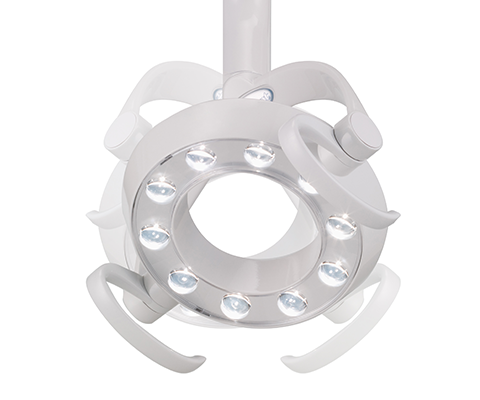 Smooth, three-axis light head rotation permits stree-free light head positioning with one hand. Positioning flexibility directs illumination to area where it is needed.
Intensity Adjustment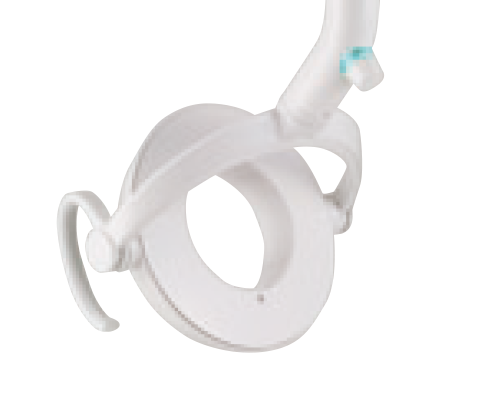 Each operatory has different ambient light conditions. With this in mind, 900 dental lights include a stepless intensity control to adjust brightness to fit the actual operatory light condition.
Line Up
TYPE 901

Post Mount Type

TYPE 902

Ceiling Mount Type

TYPE 905

Track Mount Type

TYPE 920

Unit Mount Type
Specifications
Rating
100-240V 50/60Hz
Intensity
4,000 to 32,000 lx (Stepless volume)
5,500 lx at composite safe mode
Color temperature
5000 degrees Kelvin at any intensity
Color rendering index
More than 90
Focal Distance

650 mm

Light pattern

80 mm x 150 mm

Bulb type

High Rendering LED

Life expectancy of LED

40,000 hours

Light On/off

Touchless sensor

Composite safe mode

Touchless sensor

Intensity Adjustment

Stepless rotating knob

Manual override

Toggle switch for manual /sensor

Head positioning

Rotation of head at three axes
Click images to enlarge
Catalogue Downloads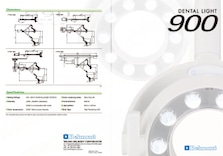 900 Dental Light.pdf